Where is the Bowling Green?
Kings Head Bowling Club:
The Bowling Green is at the top of the Kings Head pub beer garden. Access through the old Horse and Carriage Archway at the side entrance to the pub.

The Address is Kings Head pub, 14 Queens Street , Ulverston LA12 7AF

The Club leases the Green from the Brewery, and is run, not by the pub, but by a committee of volunteers.

There are Chinese, Italian and Indian food outlets opposite the pub, and other alternatives around the Market Cross area less than 30 yards away.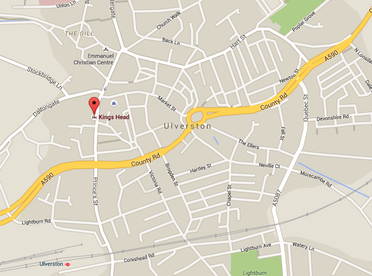 Click the Image for a map to the Club.